In terms of electric vehicles sales and registration, the year 2021 was brilliant in Romania.
This year Romania registered more EV's than all the years combined before 2021.
Romania entered 2021 with 6052 EVs on the road and finished the year with 12 870 EVs.
More than 90% of the EV SALES were registered inside the incentives program called RABLA PLUS that gives an eco-ticket of 45 000 lei on buying a new EV (~9000 eur).
2021 brings to Romania a number of 60 electric models in comparison with 42 models available in 2020.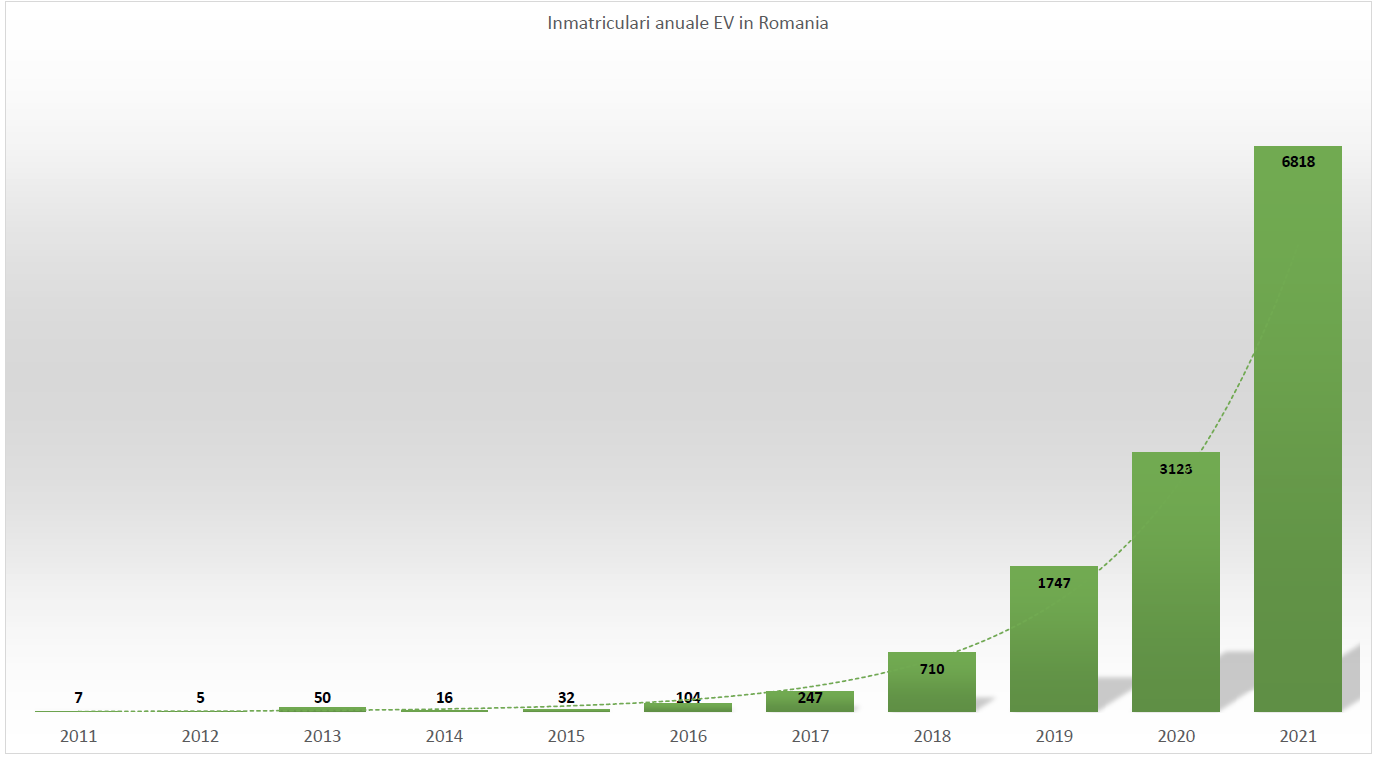 Dacia Spring becomes the most registered electric vehicle in Romania since 2011 when the first BEV was registered ever. In two months (November + December), The Spring Baby Boom has become a market leader in Romania. By 2021 it has a 45% share of the stock market, and all-time has almost 24%. Let's not forget that Dacia Spring started to be registered only in June 2021.
Tesla Model 3 had a very good year in 2021 with over 250 units sold.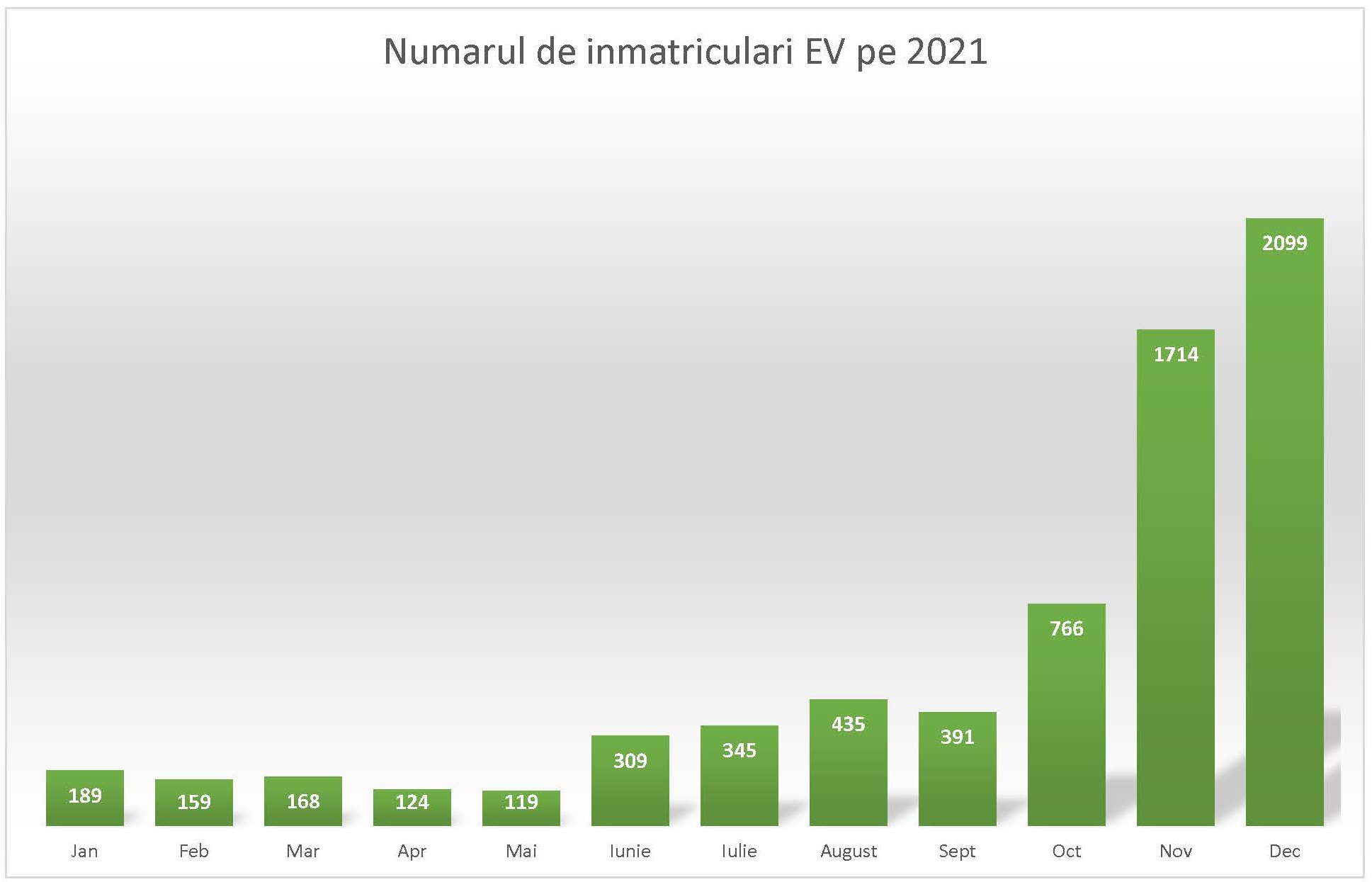 The high-end segment counts no less than 44 new registrations this month: 12 Audi E-Tron, 7 BMW IX3 and Mercedes-Benz EQC 400 4Matic, 6 Ford Mustang Mach-E, 5 Porsche Taycan, 4 Tesla Model X, 2 BMW IX XDRIVE40 and 1 Jaguar I-Pace respectively. The year 2021 ends with an impressive 118% increase over the previous year. Major differences (70% +), as can be seen, occurred in March, April, August, October, November and December.
There are currently 12 870 electric vehicles in Romania. We have a change of leader, Spring tops 3066 pieces, and the French model ZOE drops to 2 with a total of 1854 units. E-UP completes the podium with 808 vehicles. The electric vehicle market in Romania is still in full swing, booming exponentially from year to year. This year alone, 13% more BEVs were registered than in all the previous 10 years (ie compared to the total number of people registered in Romania until 2021).
The top EV models that Romanians favor are found in the below graph.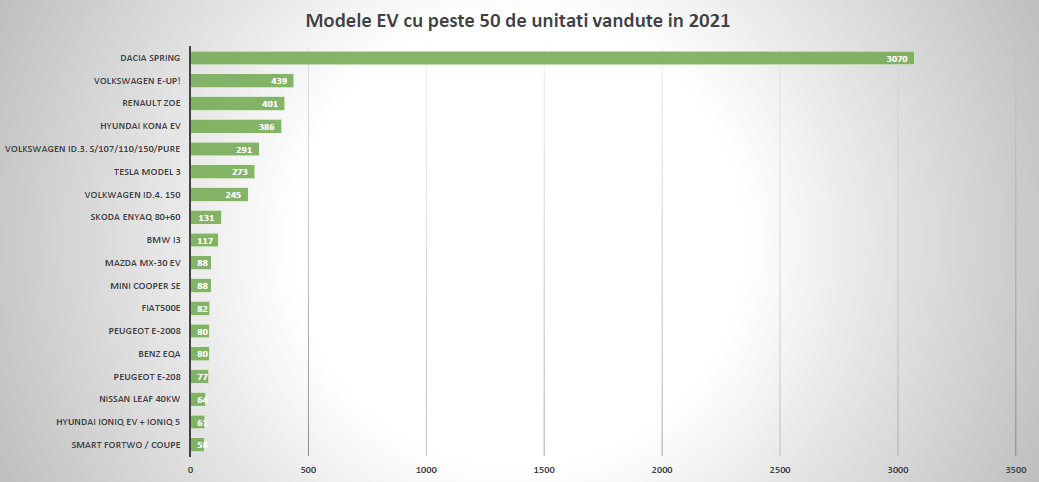 Regarding the charging infrastructure, Romania have currently 2 086 public chargers, of which 436 are CCS / CHAdeMO fast chargers type, and 1 650 of normal charging Type 2. 
Below is a map of the numbers of EVs existent in each national county to focus our efforts to bring more chargers in those areas.